We Couldn't do it Without You!
As a non-profit organization, Saitsa recognizes the importance of volunteering to our continued success. As volunteers you'll be representing Saitsa as you interact directly with students, whether you're helping helping run fun annual events like the Polar Jam Winter Carnival, or handing out flyers to raise awareness about Saitsa events and services.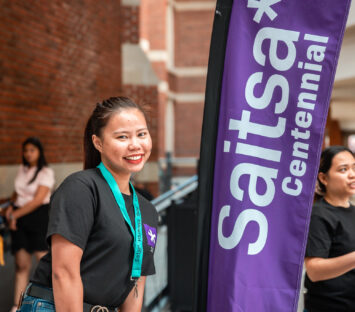 Help us, help Yourself! Volunteer today!
Why Volunteer?
Give back to the community

Enhance your resume

Make new friends and connections

Build your skills

Earn a Co-curricular Record

Eligible for Saitsa Awards

Request Reference Letter
Only current SAIT students and Alumni will be considered when recruiting volunteers.
How can I volunteer for the Saitsa Centennial?
Saitsa has different events happening this Fall. Duties and responsibilities will range from general event duties, such as: set-up, teardown, interacting with students, guiding students, and helping Saitsa staff. To office duties that includes administrative tasks, answering students' questions, and preparing residence kits for new students, among other things.
What is a Co-Curricular Record?
A Co-Curricular Record (CCR) is an official document that complements your academic transcript. The CCR program helps you track skills you gain through activities like volunteering, mentoring, and club membership, allowing you to have a record to show employers.
Your education amounts to more than just grades! It's built on everything you do while you're a student at SAIT, inside and outside of the classroom. By completing your CCR, you'll be better prepared to share your skills and experiences with potential employers both on your resume and during interviews. To get started, create a My Career Hub account and explore current CCR opportunities.
What are the Saitsa Awards?
At Saitsa, we believe outstanding students, apprentices and instructors should be rewarded for their dedication and hard work at SAIT, which is why we honour their commitment through awards.
Saitsa is committed to celebrating those who encompass and embrace the spirit of what it means to be a member of the SAIT and Saitsa communities. Our awards predominantly recognize students who demonstrate a commitment to improving the student experience at every opportunity through school spirit, student support, and advocacy. We also have awards for instructors, SAIT staff members and departments.
Could I request a reference letter?
At Saitsa, volunteers will always be appreciated and rewarded for their hard work! We never take our volunteers for granted – without them, we couldn't do what we do. Volunteers that have participated for more than 20 hours of volunteering, may request a Reference Letter from the Manager, Student Experience.
How can I keep track of my volunteering hours?
You may keep track of hours with our online form; we highly recommend keeping track of the volunteering hours and submitting them monthly.
Stop by the Saitsa Resource Centre (MC107) or fill out the form below