Your First Win of the Day
Saitsa's Free Breakfast Program
We know that every student's journey is different—but it should always start with a good meal.
Saitsa offers a Free Breakfast Program designed to fuel your day and fit your life, no matter where you're from or where you're headed.
With a record-breaking 492 students served in just one hour on September 6, 2023 we're committed to making nutritious breakfast accessible for all.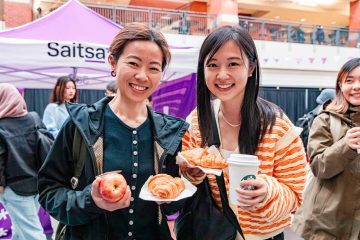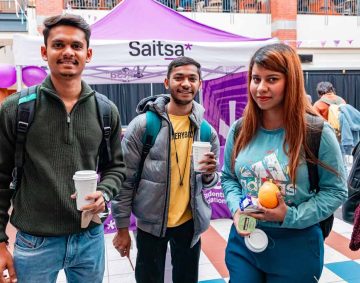 How to get your
Free Breakfast
Find the breakfast flag either in the Irene Lewis Atrium or outside the Saitsa Resource Centre (MC107) and hop in line—you can't miss it.
We're dishing out food from 9:00 a.m. to 11:00 a.m., or until we run out. Get there early to make sure you don't miss out!
Though the actual food items may vary you can expect a variety of nutritious options like apples, oranges, yogurt, juice boxes, baked goods, granola bars, and coffee.
September 6, 2023

September 20, 2023

October 4, 2023

October 11, 2023

October 25, 2023

November 1, 2023

November 15, 2023

November 29, 2023

December 6, 2023

December 13, 2023