There's no sugarcoating it: times are tough. In 2022 food inflation in Canada hit a 40-year high due to a combination of factors, including supply chain disruptions, labour shortages, high oil and gas prices, geopolitical conflicts, and of course, good old-fashioned corporate greed. And if you're hoping for relief, you won't find it anytime soon, according to Canada's Food Price Report, which predicts an additional 5% to 7% increase in 2023.
Though it would be nice if your stomach decreased in size in proportion to the rising cost of food, unfortunately, that's not the case. Regardless of the price of food, you've got to eat. And eating healthy is integral to setting yourself up for academic success. In this article, we'll look at ways to save money at the grocery store to keep your body and bank account happy.
Plan Ahead
The easiest way to save money at the grocery store is to plan ahead. Start by developing a meal plan and identifying common ingredients. By identifying commonly used items, you can save money by buying these items in bulk. Most grocery stores will have a price breakdown by weight on the price tag so you can make sure you're getting a good deal.
Use Digital Flyers & Coupons
Now that you've made a list, you can start looking for the best deals on the items you need. Flipp is an app that makes it easy to find the best grocery deals; you can search by store, browsing weekly flyers, or by item to see which store has the best deals on the things you need. There's even an option to build a shopping list right in the app.
Another great grocery app is Checkout 51. Checkout 51 is a cashback app that provides weekly cashback offers. All you have to do is purchase an eligible item in-store, submit a copy of your receipt and your account will be credited. Once you reach $20, you can cash out.
Try the Good Food Box
Saitsa is proud to be a hub for the Good Food Box program, which provides Calgarians with affordable boxes of fruits and vegetables. The Good Food Box comes in three sizes small (15-20 lbs for $25), medium (25-30 lbs for $30) and large (35-40 lbs for $35). Getting a Good Food Box is easy; head to the Saitsa Resource Centre (MC107) to fill out an order form and make your payment, then come back on the pick-up date to get your Good Food Box.
Visit Saitsa.com/GoodFood for more information.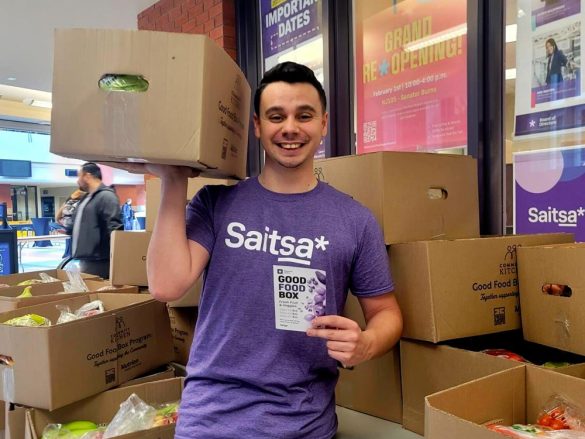 Order Online
Ordering groceries online for pick-up or delivery is a great way to help manage your spending. Seeing the cost adding up in real time allows you to decide between essential and not-so-essential items. And by browsing through the sale categories, you can easily find the best deals in store. Though pick-up and delivery charges range between $5-10, you can take advantage of new customer deals or promotional discounts to get free shipping on your first few orders.
Spud.ca
SPUD is an online-only grocery service that delivers organic, local products right to your door. As an organic grocer, SPUD's prices for individual items will be higher than Superstore or Walmart. Still, SPUD offers a variety of products and services that will help you save money. There are options to purchase boxes of fresh fruits & vegetables and "imperfect produce" at discounted rates. If you know you'll be ordering an item every week, there's an option to subscribe and save for further discounts. Additionally, SPUD offers ready-to-eat meals and DIY meal kits. SPUD is an excellent option if you're trying to eat healthy on a tight budget.
SAIT students can get $15 off their first order of $100 or more by using the code: SAIT15 at checkout.
Food Rescue Apps
The statistics on food waste in Canada are alarming. One report estimates that 58% of all food produced in Canada is lost or wasted. And most of this food is entirely edible produce thrown away due to minor imperfections or arbitrary best-before dates. Food Rescue apps such as Too Good To Go, FlashFood and Rescue Food allow you to take advantage of great deals on products that might otherwise end up in the trash.
Happy Shopping!
We hope these tips help you cut costs without sacrificing quality at the grocery store. With a little effort and creativity, you'll be able to push your grocery budget further than you thought possible. Happy Shopping!