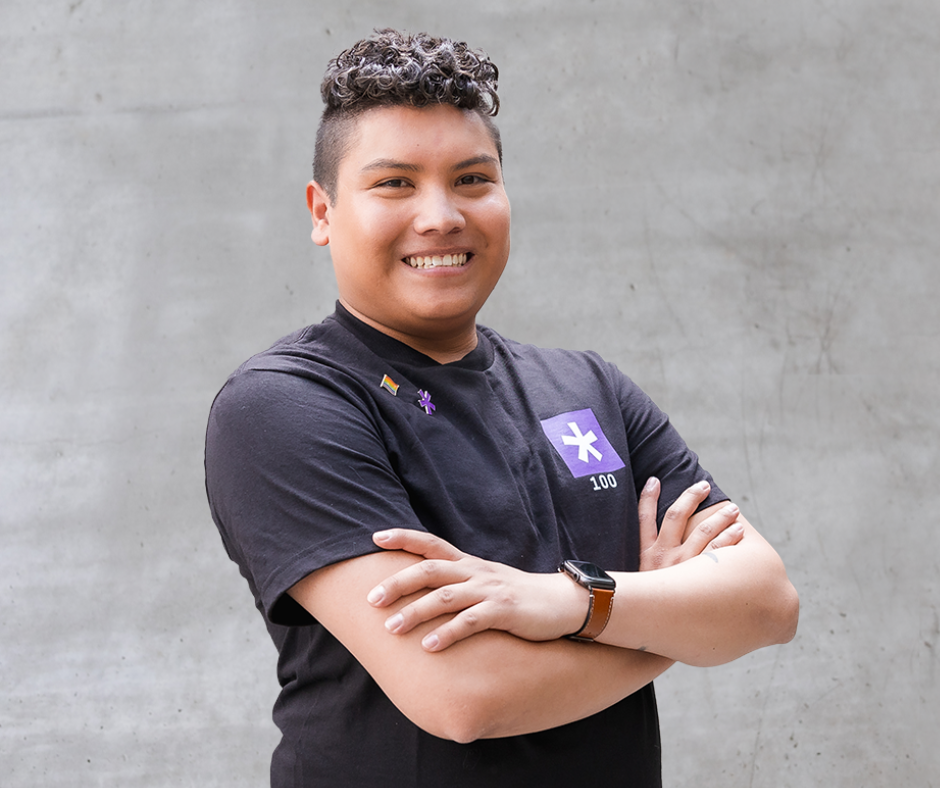 Before becoming President, Dawson served for three years in SAIT student leadership as a Director on the Saitsa Board of Directors and, in the 2021-22 academic year, the Saitsa VP. Alongside being a SAIT student, working, and taking on his new role as President, he is a Vice-Chair of the Alberta Student Executive Council (ASEC) and Chair of the Calgary Student Alliance. His passion for student advocacy is proven in municipal, provincial, and federal levels. Let's get to know the 24-year-old Hospitality Management Student from Saskatoon, your new Saitsa President!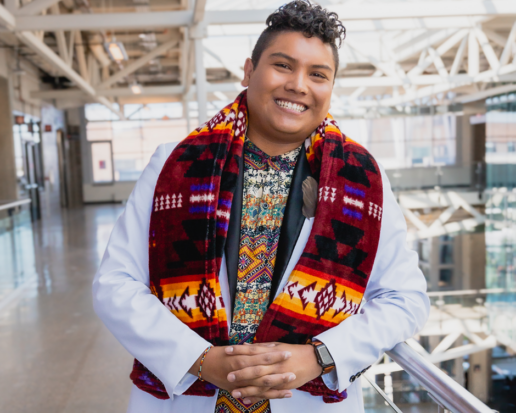 Q: Where are you from and can you briefly explain what led you to be here at SAIT in Calgary?
A: I'm from Saskatoon, Saskatchewan but before that I was living in a smaller town called Timmins in Ontario which is nearby the reservation that I'm registered in, Mattagami First Nation. What led me to come to Calgary at SAIT is to have the opportunity to do something new and try something out that was outside my hometown.
Q: Tell us about your childhood home.
A: My childhood home is a mix of memories. Most of my memories are from growing up in Saskatoon, but prior to that was a mix of being in Timmins because a lot of my family members lived there with it being a short distance away from the reserve. I remember having feasts, going to Pow wows, and playing at a playground. A memory I can remember more clearly is going to a beautiful beach that was close to the reservation. I remember walking along the beach as a kid, feeling the sand on my feet, and finding this beautiful shell that I kept but unfortunately don't have with me today.
Q: Who are you closest to in your family?
A: My mother, it was just her and I growing up.
Q: What values and beliefs did your mom teach you?
A: My mom taught me to be kind, have compassion, as well as being honest – that was a big one for me. As I've gotten older, family became on its own for me but in my family we're always there for each other no matter what and support each other with no judgement, and that became a really big belief for me, especially when I became older and came out as gay to my family. I was worried there was going to be judgement, because at the time, I didn't know much about my culture and didn't know if I would have support. Once I came out, in their eyes I was still the same person which is exactly what I needed.
Q: Who has been the biggest mentor for you as a SAIT student?
A: I don't really feel that I've had a mentor during my time at SAIT. Not a lot of my family members went to post-secondary, my grandfather and grandmother did, but beyond that not really anyone else did. On the family-side of things, it's difficult to look up to that mentorship, but despite that, I'd still say my family. My grandparents pushed me and inspired me and put me in a spot to keep going further, but being an Indigenous student, there isn't much mentorship to look up to. For me on the academic side of things, there wasn't something that stood out to me in terms of thinking "that's the type of person I want to be, that's where I want to be, and that's where I want to go", it's all about the representation we don't really have now but even now it feels not as much as it could be.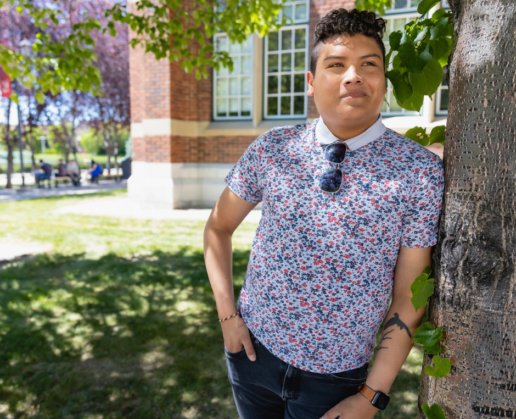 Q: Can you share your thoughts about being Saitsa's first Indigenous student president?
A: When I first found out, I asked staff if they've ever heard or seen Indigenous representation in this role and when the answer came back as no, part of me was shocked but part of me was also not shocked because of the lack of representation, even today in 2022. Recently, our friends at MRU, their Students' Association just had their first Indigenous president ever as well so you are seeing more of it, but it's definitely still rare to see elected student officials who are Indigenous. To me, being Saitsa's first Indigenous student president is really amazing. I've had students come up to me in the past during events and activities on campus and tell me that they think it's great that I'm on the Saitsa Board of Directors and other things, because they don't really see Indigenous people do these things very often. Before I never thought about the impact I could have and the inspiration I could bring, but these students are right in terms of not seeing Indigenous representation on these platforms to advocate for change. Being in this position is really special and I hope to show Indigenous students who come to SAIT that they can do it too. Anyone can have that voice to advocate for change.
Q: What are you looking forward to most about your new role?
A: So many things come to mind, especially because this year will be my last year with Saitsa. I'd have to say what legacy I'm going to leave behind. A lot of Saitsa presidents leave behind something impactful. I'm not sure if I'll be able to do all the things I want to in terms of student advocacy, knowing that time is limited. However one thing I definitely want to walk away knowing I accomplished is increasing supports for Indigenous students. I want to provide a platform for other Indigenous students on campus who want to make their voices heard. All SAIT students have the opportunity to run in Saitsa BOD elections to make their voices heard, however I know that not all students want to, so I'd like to give them a different opportunity besides running in elections.
Q: Knowing that you were the Saitsa VP last academic year, what made you apply to become the Saitsa President this upcoming year?
A: When I first applied to the Saitsa Board of Directors, I knew I wanted to eventually become a Saitsa President from the get-go. My game plan was to start as a Director, move on to Chair, then eventually to President. Since I first started at the Board, that's exactly what I was working hard to do through conversations with the person who was President at the time. I really wanted to know the work they were doing, their responsibilities, and what their lifestyle was like. Having those conversations reassured me of my goal to become President later on. It reminded me of the impact I want to have in the student movement. I'm very excited to be where I'm at today, I've worked hard to get here, and I can now tick that box off!
Q: As the Saitsa President, you are the chief representative and the primary advocacy role for the SAIT student body. What can students look forward to from you when the Fall semester begins?
A: My promise to always hear their student voices and concerns. My door is always open, for concerns but also if students want to chat or say hello. Upon this Saitsa President title, it is great but I'm still a person, I'm still just a student like everyone else, so that hasn't changed. I look at myself like any other person walking through those halls on campus. I'd love to get to know you if you'd like to chat or help advocate for the change you'd like to see on campus or off-campus through external advocacy. I will be doing my hardest to balance everything to put students' rights and needs first!