Good nutrition, combined with physical activity, will help reduce risk of chronic diseases and promote one's overall health. Take charge of your life and choose healthy food to boost your mood! For this week's Wellness Wednesday, watch Gateway's Head Chef, Justin make this healthy and balanced meal: Chicken Souvlaki Wrap and Crispy Smashed Potatoes.
CHICKEN SOUVLAKI WRAP WITH CRISPY SMASHED POTATOES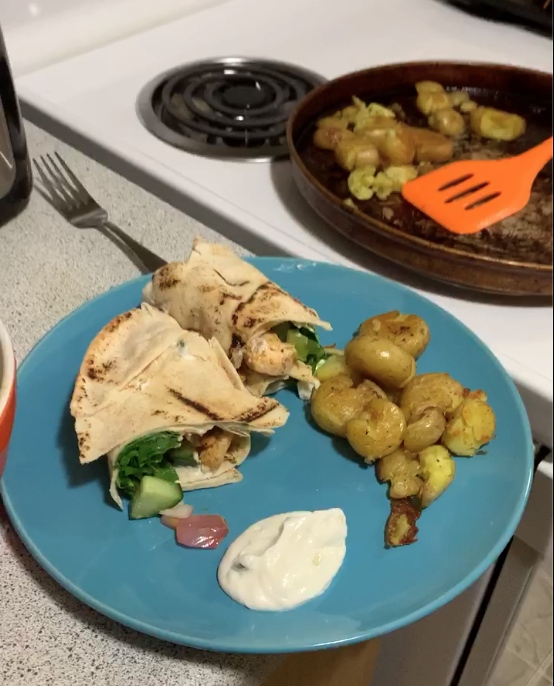 For the Chicken
2 boneless skinless chicken breasts, cut into 1-inch cubes
½ – red onion, cut into 1-inch cubes
6 garlic cloves, minced
1 tbsp – dried oregano
1 tsp – smoked paprika
1 tsp – ground cumin
1 tsp – ground coriander
1 tsp – chili flakes
½ – lemon, juice and zest
1 tbsp – olive oil
½ tsp each – salt & pepper
6 wooden skewers
PROCEDURE
Place chicken and onions in a large bowl. Add remaining ingredients. Toss to combine, making sure chicken is well-coated with marinade. Cover tightly and refrigerate for 2 hours or overnight. 
Potatoes can be prepared while chicken is marinating. Recipe follows below.
Soak skewers in water for 30 minutes. This prevents them from burning in the oven.
When ready, preheat oven to 400F. Meanwhile, thread the chicken onto the skewers, alternating each piece of chicken with a piece of onion. Place chicken skewers on a baking sheet. Reserve marinade.
Place chicken in the oven and bake for 8 minutes. Turn skewers and brush with reserved marinade. Return to oven and bake for an additional 8 minutes or until chicken is completely cooked.
Remove from oven and allow to rest while preparing the pita wraps.
For the Potatoes
12 mini yellow potatoes
¼ cup – olive oil
1 tsp each – salt & pepper
2 tbsp – tzatziki
PROCEDURE
Place potatoes in a pot of salted water and bring to a boil.
Preheat oven to 400F.
Continue to cook until the potatoes are fork tender.
Strain, place potatoes on a baking sheet. Gently smash them into pancakes. Drizzle with olive oil, salt and pepper.
Place in oven and bake for 20 minutes or until potatoes are roasted and crispy.
Serve with tzatziki for dipping.
For the Wrap
2 – 6" pita bread
2 tbsp – tzatziki
1 cup – chopped romaine lettuce
2 tbsp – diced cucumber
2 tbsp – diced red onion
2 tbsp – diced tomato
2 tbsp – crumbled feta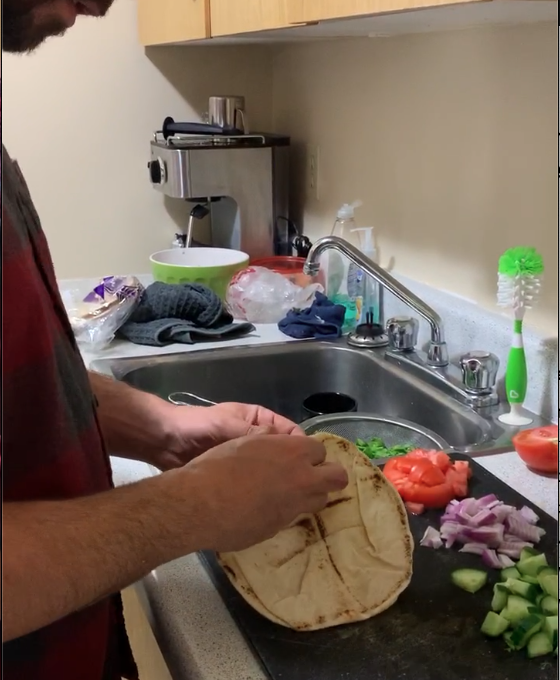 PROCEDURE
Open the pita bread and spread on the tzatziki.
Add lettuce, top with cucumber, onion and tomato.
Remove chicken from skewers and add.
Top with crumbled Feta
Serve with crispy smashed potatoes