Your Stop for Helpful Information
Check out this collection for valuable and helpful resources we have to offer international students.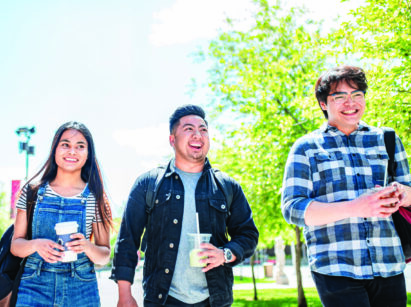 We are committed to ensuring that every SAIT student gets the most out of their education experience.
Bedroom
Comforter
Mattress pad
Bed sheets
Pillows and pillowcases
Throw blanket
Closet organizer
Laundry basket, detergent, dryer sheets, and stain remover.
Hangers
Clothes, shoes, and accessories (it can get chilly in Calgary!)
Bathroom
Toilet paper
Toothbrush, toothpaste, and dental floss.
Towels - bath, washcloths, and hand towels.
Shampoo, conditioner, and bath soap.
Hand washing soap
Nail clippers
Hair grooming tools - hair brush, hair dryer, comb.
Bathroom cleaning products
Extras depending on your preferences: Q-tips, mouthwash, shaving kit, shower mat, air freshener, loofah, lotion, scale.
School Supplies
Note: supplies vary depending on your program/class.
Planner
Pencils, pens and highlighters.
Notebooks and/or binders
Planner
Calculator and ruler
Stapler
Whiteout
Printer paper
Index cards
Decorations
Note: Make your new place feel like home!
Personal photos
Decorative area rug
Over the door storage hanger
Posters - see the rules for hanging posters in your residence beforehand.
Additional seating for guests - futon, bean bag, etc.
Need to switch banks for your big move to Calgary? Below are some of the options available to you with their addresses.
ATB Financial - close to SAIT: 217 16 Ave NW, Calgary
RBC Royal Bank - close to SAIT: 417 10th Street NW, Calgary
BMO Bank of Montreal - close to SAIT: 425 1st Street SW, Suite 113, Calgary
CIBC - close to SAIT: 1222 17 Ave SW, Calgary
Scotiabank - close to SAIT: 1204 Kensington Rd NW, Calgary
TD Canada Trust - close to SAIT: 1632 14th Ave NW, Calgary
Switching banks requires several steps, so we recommend committing one day to completing the process so you can take your time and do it right! When you pick a bank, here are a few things to prepare:
Make a list of all of your automatic deposits and automatic bill payments. A few examples of these include: the account your pay cheques get deposited into and the account you get charged for Spotify, Netflix, wifi, hydro, and/or heat.
Provide the bank proof of your identity. Prepare the following information: legal name, date of birth, driver's license number or other I.D. number, phone number, email address, social security number, and mailing address.
When you've officially set up your new accounts, enrol in online and mobile banking to keep track of your expenses, update your automatic payments and deposits, and close your old bank accounts.
Working while studying can help you in the long run if you have a student loan. Remember though that having balance is important, so we recommend reflecting on your own workload and whether you can succeed and balance homework with work.
There are a few ways to find jobs:
Browse Indeed.com to find recent job postings
Search specific jobs on LinkedIn
Search businesses on Google and stop by in person to drop off a resume and general cover letter. Remember to look your best, provide a fresh resume and cover letter, and speak with confidence!
In a resume, we recommend including your name and contact information, an overview of your previous work experience, your education (even if you haven't graduated yet), and your skills. To learn more about resumes, check out SAIT's Career Advancement Services.
There are a variety of grocery stores to choose from in Calgary! Below are some of our favourites:
Real Canadian Superstore - $$
No Frills - $
Save-On-Foods - $$$
Safeway - $$
IGA - $$
We recommend checking your kitchen and creating a grocery list before hitting the grocery store. This can help you stay on budget!
Your student experience is what you make of it!
With Saitsa, there are endless opportunities to get involved and here are a few:
Join or start a club! View current clubs here.
Join the Saitsa Board of Directors! Learn more here.
Meet new people and make an impact through volunteering. Learn more.
Make new friends, expand your professional network, develop new skills, learn more about your community and yourself, and help those around you.
Moving to Calgary without a vehicle? You can easily get around on the city's CTrain! The CTrain is the city's light rail transit system. To learn how to ride the CTrain, visit: calgarytransit.com/home.html.
Calgary also has multiple outdoor pathways and bikeways! With SAIT being located in downtown Calgary where it's fairly flat, biking in the summer months can be one of the most enjoyable ways to commute! View a map of all pathways and bikeways.
Saitsa Wellness Resources
There's a lot to balance as a post-secondary student. You may be a parent with additional responsibilities, working while studying, or taking five or more classes. Creating balance in your life is important for both your physical and mental wellbeing.
At Saitsa, we understand how important this is and offering all students the following resources at the Resource Centre and Peer Support Centre:
Resource Centre
Wellness Bank
Good Food Box Program
Emergency Food Request
Lockers
Discounted Tickets
Printing & Binding Services
Student & Instructor Awards
Explore more here
Located in MC107 Stan Grad.
Phone: 403-210-4323
Email: saitsa.centre@edu.sait.ca
Peer Support Centre
Resources around mental health support
Menstrual products and safer sex supplies
A drop-in space to connect
Relaxing and fun events year-round to promote wellness
Programming to connect with supportive peers, make friends, and cope with stress.
Please note: The Peer Support Centre is currently closed. For latest updates and to explore resources, click here.
Off-campus Wellness Resources
Canadian Mental Health Association (CMHA) Calgary - counselling, educational classes and workshops, drop-in and therapy groups.
The Calgary Food Bank - Call 403-253-2055 to request your emergency food hamper
Calgary Counselling Centre - Support in coping with a variety of concerns including addictions, anxiety, depression, stress, family relations, trauma, health issues, parenting, self-esteem, and more.
Alberta Health Services - Distress Centre Calgary, Addiction Helpline, Mental Health Helpline, Health Link, and more are available 24/7 over the phone. If there is an emergency, call 911 or go to the nearest urgent care centre.
Finding off-campus housing doesn't have to be daunting! Here are a few websites to browse through when it comes to finding a new home:
In any ad you see, we recommend:
Reading as much as you can on the property before reaching out. This ensures that a potential home checks off all your boxes!
Listening to your gut - does the ad look suspicious? Is the owner only showing one photo of the property? Are there no details of the property?
Touring a potential home with at least one other person for safety purposes!
Asking any questions that come to mind during the tour - the owner should be able to answer any questions you have and give you peace of mind into whether the home would be right for you.
Considering the distance of the property to SAIT - is it a less than 30-minute commute?
English Conversation Partners Program
Joining the program as a student gives you the opportunity to improve your spoken English, meet new people, and share cultural experiences.
Any student in any SAIT program can join and you must have a minimum Canadian Language Benchmark Assessment (CLB) 7 or IELTS Band 5.
To learn more or ask questions, visit SAIT's webpage here.