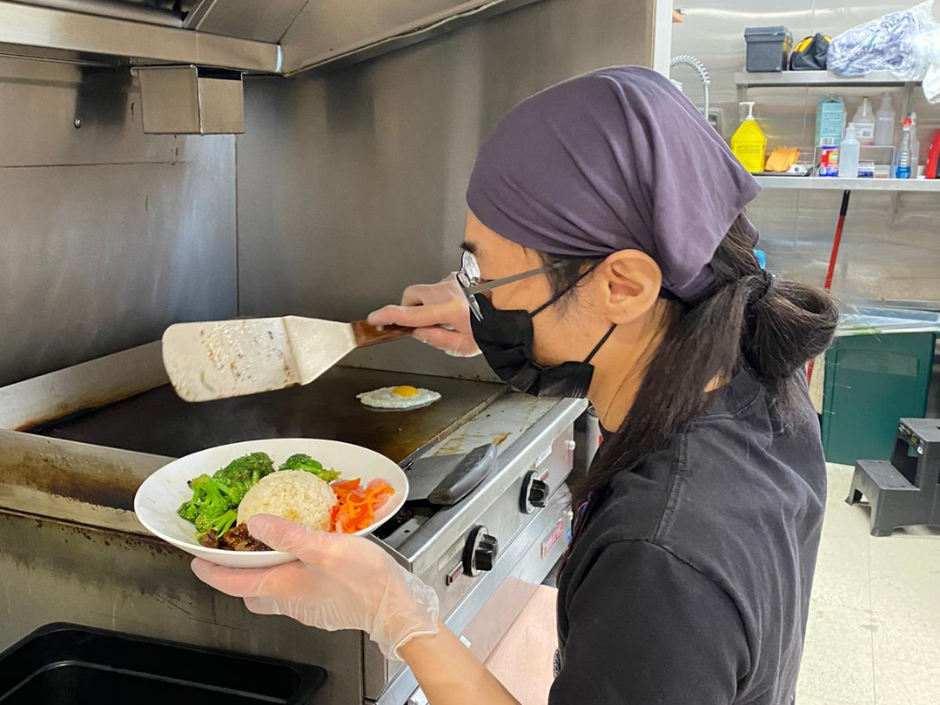 This is Gavin, hard at work at the Odyssey!
Have you heard of the Odyssey? It's the student-owned and operated café located at the SAIT Campus Centre. If you need delicious coffee, breakfast because you didn't want to miss the C-Train, or lunch because you have back-to-back classes, the Odyssey should be your go-to spot!
Plus, who doesn't enjoy student-friendly prices on coffee and food?
If you've ever wondered what a café supervisor's typical day looks like, you're about to see!
Rise and shine! This is when Gavin's alarm goes off and man is it ever tempting to hit snooze.
His morning routine consists of taking a shower, brushing his teeth, washing his face, shaving, and getting dressed. He doesn't make breakfast at home!
He leaves work at 6:35 a.m. and walks! Whether it's snowy and cold in November or sunny and warm in May. In just 15 minutes, Gavin arrives at the Odyssey and gets exercise all before 7:00 a.m.!
When he first arrives, he clocks in and checks his body temperature as a COVID-19 protocol. He then chats with the opening shift crew to start the daily check before customers start coming in.
He checks the alarms, the money in the register, the temperature in the freezer, the expiry dates on the baked goods and dairy products, the espresso (while making myself a cup!), and start chopping up ingredients for breakfast food to sell. If he has a meeting, it's normally in the morning!
He takes a lunch break at different times every day! It really depends on the lunch rush. When it's crowded he's working and overseeing the café. He then works with the Odyssey team to prepare lunch items, counts money from the register, and checks his inbox.
He might have tea in the afternoon and continue supporting staff with preparing lunch for customers.
Kitchen closes, so customers can no longer choose lunch items from the menu. Him and his staff start cleaning the kitchen and until 3:00 p.m., only serve drinks and baked goods.
The Odyssey closes and he counts and deposits money from that day. He also moves frozen products to the fridge to defrost for tomorrow morning.
We asked Gavin: What do you enjoy most about your position?
"I like getting paid, haha, but also making friends on-the-job and socializing with new people."
He leaves work around this time, but it various day to day. After work, sometimes he stops by the nearest Safeway to get a few food items.
Once he gets home, it's time for a nap! After a long work day, a quick nap is what he needs to re-charge. Afterwards, he typically makes dinner at home which usually consists of meat, vegetables, and noodles! He likes to keep his cooking as simple as possible.
After dinner, he likes to watch Youtube videos or game online. I like to play Battlefield, Call of Duty, and Subnautica!
There's not much to my routine before going to sleep, just brushing my teeth and washing my face! I typically go to sleep pretty late.