Student Clubs
Healthcare Interprofessional Education (HIPE) Club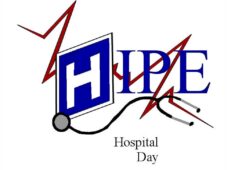 The Healthcare Interprofessional Education (HIPE) Club is a subset of Calgary Students for Interprofessional Collaboration (Calgary SIC). Members of HIPE constitute students from healthcare programs at SAIT: Paramedicine, Diagnostic Imaging, Respiratory Therapy, Medical Laboratory Sciences, etc. HIPE operates through Calgary SIC for collaboration with students from other healthcare faculties outside of SAIT such as: Medicine, Nursing, Social Work, Physiotherapy, etc. Involved in this network are students from schools like University of Calgary, Mount Royal University, and University of Alberta.
We actively collaborate to develop and strengthen interprofessional education opportunities for students in health care related faculties of educational institutions in Calgary.
We design and organize team building events that foster development of positive, team-based culture within health care. Our events help to reinforce student learning and improve future interprofessional relationship between the different health care disciplines. Thus, our goal is to develop sustainable and consistent interprofessional education opportunities for health care students within higher educational institutions in Calgary and beyond. As such, we develop and maintain a repository of interprofessional education initiatives in Calgary.
One such initiative is the very popular HIPE Hospital Day event, which is organized annually. During this event, part of the SAIT Health And Public Safety building is turned into a mock hospital with an ER, ICU, Wards, Diagnostic Imaging (DI), Medical Labs, and a Paramedicine station. Students from the various health care disciplines are organized into groups (each group consists of MD students, Paramedic students, Respiratory therapy students, Nursing students, and Social work students). Each group gets to perform a simulation exercise in each area of the mock hospital. The DI, Med Lab, and Paramedicine students perform a demonstration exercise as well, to educate each group about those professions.
Email: hipe.sait@gmail.com
Request to join this club!