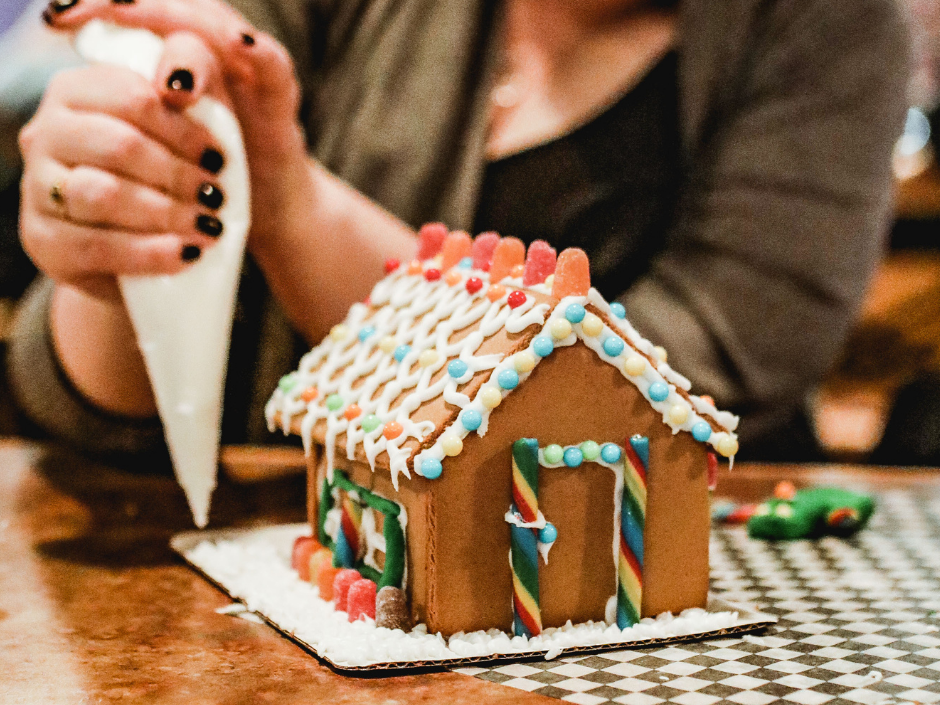 It's the most wonderful time of the year!
There's no doubt that this year has brought upon challenges, with some being very similar to what we experienced in 2020.
Despite this, we've seen progress in having in person activities and classes again. We are hopeful that much more is to come in 2022.
Take time during the holiday break to step back and reflect on all the hurdles you've overcome and the successes you had, in your personal and professional life and your time as a SAIT student.
You deserve it!
Calgary is a buzzing city no matter the time of the year, so you know you'll have options of fun-filled holiday-themed activities to do with your family or friends!
Let's explore 5 things you can do this holiday season.
1 - Skating at the Olympic Plaza
The Olympic Plaza got its name from hosting the medal ceremonies at the 1988 Winter Olympics and is located around Macleod Trail and 7th Avenue S. It is the only City-maintained outdoor skating rink, is free to skate (unless you have to rent skates and helmets), and dare we say it can really set the tone for a romantic holiday date!
2 - Drinks on a winterized patio
Patio season isn't just in the summer!
Enjoy your favourite liquor of choice in a heated, outdoor patio with some friends. Some of the pubs and restaurants that winterize their patios include the Craft Beer Market, Dandy Brewing Company, Hayden Block Smoke & Whiskey, Cactus Club Café, and Bottlescrew Bill's Pub & Buzzards Restaurant.
3 - Experience holiday light displays
Have you ever seen the Calgary Zoo light up during the Winter? It's breathtaking. Now until January 2, 2022, you can bring your friends or family in-between 5:00 to 9:00 p.m. to the Calgary Zoo and see the magic for yourself!
Not too far away in Okotoks, there is Light Up Okotoks that includes not just holiday lights but live entertainment, wagon rides, ice sculpture demos, cookie decorating, fireworks and more. This free event has started!
If seeing holiday lights is on your list of things to do this Winter break, you're in luck because there are countless other places to see just that. Sparkle Sparkle, the Christmas Light Festival, Lions Festival of Lights, Airdrie Festival of Lights and more!
4 - Get into the holiday spirit at a night market
Walk in a winter wonderland at a night market!
On December 17, the Crossroads Market is hosting its annual holiday-themed night with giveaways, treats, and the atmosphere you need to get into the holiday spirit!
The Spruce Meadows International Christmas Market, located in Spruce Meadows, hosts their annual holiday-themed market on November 26-28 and again on December 3-5. With over 200 independent local businesses, food vendors, and more you can find a last-minute gift or treat yourself!
Located on Granary Road, A Christmas to Remember hosts a memorable winter-themed experience every weekend now until December 19. It truly has it all with shopping, décor, carols, and lights!
5 - Gingerbread house decorating contest
Sometimes the best memories are created from spending quality time with your family or friends at home. Put on a holiday movie, buy holiday-themed cookies and enjoy some eggnog with your loved ones. Buy a few gingerbread houses and have a decorating contest with your friends.
The best holidays are truly the ones when you spend time with the people you love.